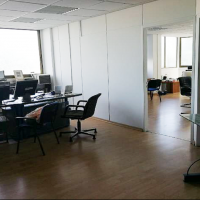 ID: 6378
Commercial Offices
Office in a Central Location - Larnaca Center
Larnaca Center, Larnaca
Resale Property
Title Deeds
The property falls within the administrative boundaries of Larnaca District, Larnaca Municipality, at Skala parish. It is located at the centre of the town and only 50m from the American Academy.
The use in the vicinity is commercial, the wider area is characterized by clothing shops, coffee shops and town hotels. The popular Phinikoudes' beach is nearby in walking distance.
The property is a whole-floor office on the 1st floor. The block was built approximately in 1993. The building consists of a basement with parking spaces, ground floor with shops and five floors of ten apartments or offices.
The entire area of the office is divided in two separate offices with individually entrance.
THE PRICE MAY BE SUBJECT TO VAT. For more information please contact us.